Patoka Township


Marion County, Illinois

vvvvvvvvvvvvvvvvvvvvv

Patoka Township is the county's most north-western township, boarding Foster Township on the East, Carrigan Township in the south and Fayette County on both the west and north. Patoka Township is listed as Township 4N and Range 1E of Marion County, Illinois.
Patoka Township has two villages in 2004. The largest, Patoka, which was named for the township, and Vernon, which the county's most northern village.
Patoka Township received its name from the Native Americans. The Ponca Indians, who were a branch of the Dakota Sioux Indians, had various branches of themselves throughout the area. One, Chief Patokoh, lived at the Mineral Springs with his tribe, which is located a few miles west of the Village of Patoka. There is also a burial ground near the spring.
The first white settler of Patoka Township was Harmon HOLT and his family, arriving from Georgia in the winter of 1826 and settling on Section 14. At his death a few years later, he left his wife, Isabell "Ibby" (FOSTER) HOLT, and two sons and four daughters.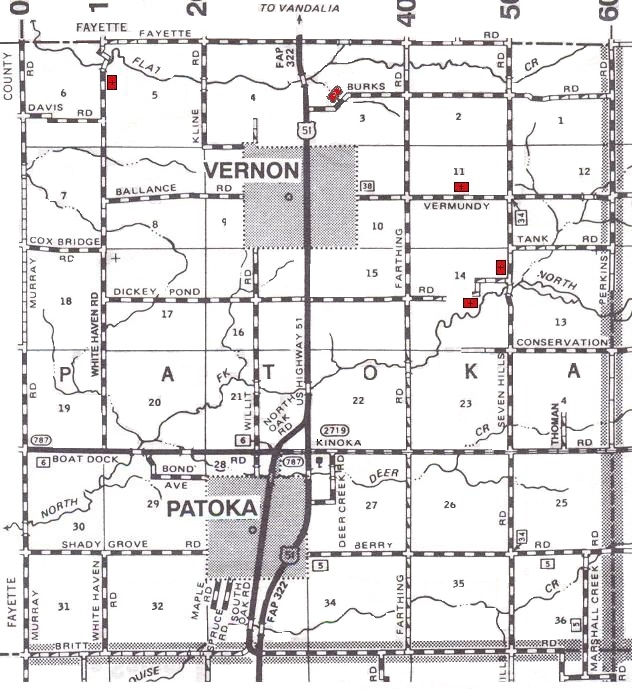 The second settler was John COLE and his family in the spring of 1827, also settling on Section 14.
Jeptha "Jepthie" MEADOR arrived two years later in the latter part of 1829, settling also on Section 14. He and his wife, Sarah (HIER) MEADOR, were both born in Virginia, where the Meador (or MEADOW) family had been living since the 1650's. Jepthie was a blacksmith by trade, but also was a minister. The Meador?s had eight children. They were Ambrose, Matthew, Joel, Elias, Martin, Granville, Mary Ann and Simeon W. MEADOR.
The ever-moving Stephen HOPKINS arrived in 1830, settling on Section 13, but later moved to Fayette County. Ignatius ANDERSON arrived in 1830.
The Airs CONANT family arrived in Patoka Township in 1830, He settled on Section 11. He arrived with his wife, Mary "Polly" (PEPPER) CONANT and three of their children, Martha Ann "Patsy", Elizabeth "Betsey Bird" and William Rice CONANT. Six of their children had died in Georgia and two more were born in Marion County, Mary (CONANT) SWIFT and John Berry CONANT. Airs was an educated man, a descendant of the New England Conant Family, notably Governor Roger CONANT of Salem, Massachusetts. Airs moved to Georgia, where he met his wife, and inlisted in the Georgia Militia during the War of 1812. Airs was the first Justice of the Peace in Patoka Township. He was also the first school teacher in Patoka Township. Airs and his family later moved to Section 8 of Foster Township. His wife's aunt, "the widow" Mary (WHALEY) JONES, lived near there. Their descendants in 1991 live throughout the county and the nation, including England.
Young EDWARD arrived in Patoka Township in 1831, as did Solomon CROSS.
The first death occurred in Patoka Township in 1831/32. It was Mrs. Solomon CROSS.
The first marriage was that of Henry HOLT to the daughter of Jesse NICHOLS in 1832.
In the fall of 1832, Laban GALLION settled on Section 4 of Patoka Township.
William BROWN bought the Anderson place on Flat Creek in Secton 6 on the 3rd of February, 1836.
In 1842, John ALTOM, wife and son, Jesse ALTOM moved to the township in 1842 from Clinton County, where his father, James "Bulger" ALTOM had taken John and family in 1818, the year of Illinos' Statehood. They moved there from Tennessee. John became one of the prominent citizens of the Village of Patoka. John had six more children born in Patoka, Jane, James R., Sarah H., Erwin, Lucy Ann and Mary ALTOM. All the children remained in Patoka except Erwin, who moved to Cooke County, Texas, near Gainesville. It should be noted that the family in Texas has the spelling of ALTUM.
In the 1850's, Patoka Township saw a large number of Frenchmen settling in the area. Most all left France for religious reasons, as they were protestant and were being persecuted by the Catholic Church. Among them were the PEDDICORD'S DeVILLER'S, MALAN'S, DelASSUS', THALMAN'S ROGIER'S, BINNION'S GENRE'S MONJONNIER'S BERTHOUX'S NATTIER'S, BATES' and LUCAS'.
The 1850's also saw several German immigrants arrive in Patoka Township. Among them were the GIEGER'S, GOEDIL'S, KLEEMAN'S, KOTTMEYER'S, PROTZ'S and WERNSMAN'S. And some German-Jewish families as well, the SICHER'S and WASAM'S. The Honorable William Sicher, Esquire, was originally from Austria. He was appointed translator for President Abraham Lincoln. He spoke five languages. His wife was Addie (BEECH) SICHER, and son, Willilam F. SICHER. William's brother had the SICHER's Clothier in Centralia, Illinois.
An immigrant from Holland arrived in the 1860's, Israel OUTHOUSE, settling on Section 7 of Patoka Township.
Watson's Mineral Springs Resort was opened near Patoka in July of 1911. In August the Governor of Illinois, Charles S. DEENEN, spent some time there. It was on its way to becoming the elite resort of Illinois, but unfortunately, it burned to the ground in September and was never rebuilt.
In January of 1937, oil was discovered on the MERRYMAN farm, which was the beginning of an oil boom in southern Illinois. The well was drilled 600 feet from the Merryman Homestead. This was the first oil discovered in Illinois. By the end of the year, Illinois had produced approximately 7.5 million barrels of oil, making it the 11th ranked oil producing states. The following year, Illinois had climbed to 7th rank in oil producing states. There is a large oil tank farm in the township, located on Illinois State Highway 51 between Patoka and Vernon. Marathon, Mobile and Shell all have oil stored there. There are over 3 million barrels of oil there.
The first school/church was a log building on Section 14, located next to the Meador Cemetery.
The first birth was Martha HOLT, daughter of J. F. & Elizabeth HOLT. Martha married William EAGAN.
The first automobile in Patoka Township was owned by Charles BLANKSHIP. He was forced to sell, however, as there were too many complaints by the farmers, whose horses were being scared.
Patoka Township is still much the same as it has always been. Farming is its major industry. Oil ranks second. (See Village of Patoka and Village of Vernon for more history.)


vvvvvvvvvvvvvvvvvvvvv
Cemeteries in Patoka Township:

Cruse Cemetery is located in Section 36

Hatch Cemetery is located in Section 11

Magassi Cemetery (Section 25 in Pope Township, Fayette County, Illinois)

Meador Cemetery is located in Section 14

Patoka Cemetery is located in the Village of Patoka, Section 28

Protz - Holt Cemetery is located in Section 14

Snyder Farm - Finch Cemetery is located in Section 22

Vernon Cemetery (aka Tillman Cemetery) is located in Section 3

Thorpe Cemetery is located in Section 5

Vernon Cemetery (aka Tillman Cemetery) is located in Section 3
vvvvvvvvvvvvvvvvvvvvv
LINKS
Village of Patoka
Village of Vernon
Marion County, Illinois Index Page
vvvvvvvvvvvvvvvvvvvvv
Yahoo Genealogical Groups

Click to join patokaillinois
Join Our Patoka Township Yahoo Group
Or just visit it at:
Patoka Yahoo Group

Additions and/or corrections are most welcome.

Any old photos of Foster Township
would also be greatly appreciated.
Photos of homes, barns, families, scenes, etc.



Compiled by
Stephen P. H. Frakes
321 South Franklin Street
Salem, Illinois 62881-2120


Updated:
24 June 2022

Copyright stephenfrakes ©2003-2022